Your baby will start to leave the bottle in favour of vegetable purées and soups, or you are already looking for recipes to prepare your toddler's future little jars. But did you know that a new trend is coming more and more in France? Dietary diversification in a different way.
Baby-Led Weaning (BLW) or Child-Led Diversification (CLD)
You must have heard of this fashionable term, we also talk about autonomous or conscious diversification, all the magazines for parents have made an article about it. But what exactly is EMR?
It's a concept that comes straight from England. Gill Rapley, a nurse, was the first to name this method and wrote the first book on the subject.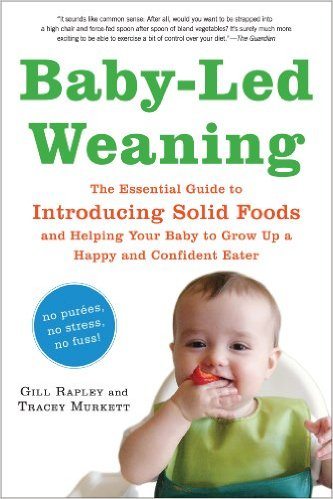 It's all about letting children decide when they're ready to discover new foods and taste them when they feel like it.
Indeed, many children develop food blockages that lead to situations of conflict or coercion (or even eating disorders in adulthood).
The BIG difference with "classic" diversification is thatwe skip the purée stage and we offer the child food in pieces so that he can eat it alone. And yes, all by himself, with his fingers...
The idea being that the child discovers new textures, new colours, new tastes of food on his own, and let him choose according to his desires.
The parent proposes and the child has...(under the supervision of the parent of course!)
HOW'S IT ACTUALLY GOING?
When to start?
Several conditions must be met to start the EMR:
you have to wait until the child is 6 months old ...
baby has to sit properly (either on top of you or on his high chair)
baby needs to be able to pick up food with his hands and put it in his mouth
The number of teeth is not important, as a 6-month-old child has a natural reflex to chew and swallow.
What do we give?
To make it easier for children to grasp, experts recommend selecting foods that are not too crumbly, sticky, hard or small.
It starts with the discovery of food, milk remains the baby's main source of nutrition. Some will eat a lot very quickly, others will nitpick for several months. The idea is to respect the rhythm of each child.
We start with the same foods as for traditional diversification. Since babies need a lot of vitamins, minerals and iron, we prefer fruits and vegetables that contain them, and we can also supplement with minced meat, fish or even pasta... We offer fresh and unprocessed products first, and we do not add salt or sugar.
Regarding the shape of the food, we propose food cut into pieces and easy to handle. Elongated shapes are the most recommended.
What kind of equipment do you need?
You have to be psychologically prepared to let your child get dirty, pretty much all around him 🙂. You will need :
a high chair (if possible easy to clean...)
a small plate
a bottle ofwater nearby
bibs as wide as possible or ideally with sleeves
and a good dose of patience not to say anything while baby makes his discoveries and experiments!
IN SUMMARY
Benefits
Awakening of the child'ssenses through the discovery of touch, taste, smell...
Learning to chew and grip
Development ofautonomy
The child eats according to his appetite and desires.
The child imitates his parents while playing...
Disadvantages
The duration of the meals which is longer than when you put a spoon directly in the child's mouth .
The mess. It's not just the child who benefits from the food, the furniture and the floor sharing the meal 🙂
So you tried? Are you going to try? Share with us your experience on the subject!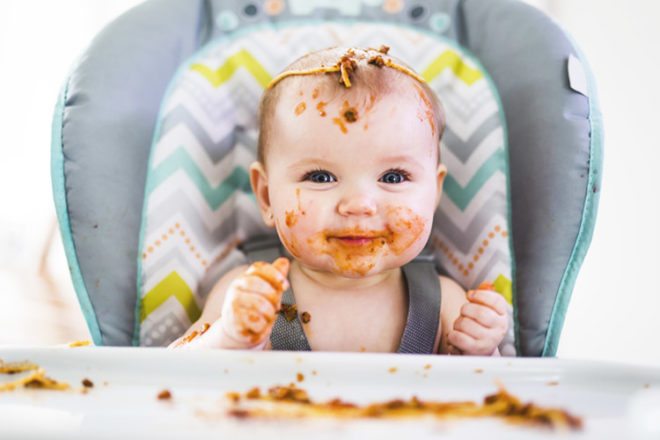 EMR is a very broad topic. I invite you to read up on it if you want to learn more about it, and talk to your pediatrician about it. Many sites and books detail the different steps for a good implementation.